Identification and analysis
The EuroAfrica-ICT initiative conducted in 2010-2011 a two-phase study into researchable priorities in ICT between Europe and Africa, with the objective of evaluating, together with European and African ICT research communities and key stakeholders in the field, what projects can be launched in the short term (in the next five years), what recommendations and actions can be developed for the identified ICT research priorities and how EU-Africa cooperation on ICT R&D can best address such priorities. It also aimed to identify region specific cooperation barriers, technology gaps, needs and opportunities that could be addressed by EU-Africa research cooperation, which could lead to significant advances in bridging the digital divide.
In the next phase of the EuroAfrica-ICT initiative, started in January 2012 with the EuroAfrica-P8 project, the identification and analysis of joint ICT research priorities was based on the information produced previously and extended by the EuroAfrica-P8 Partnership.
Project outcomes:
Review of literature on ICT research and innovation as well as European and African interests for socio-economic growth and development, and the Millennium Development Goals, in order to challenges and opportunities leading to prioritisation of ICT research focus areas.
Selection of 6 Focus Areas relevant to the European and African research/innovation/policy communities with the potential for mutually beneficially, collaborative research and innovation in ICT as depicted in the diagram below: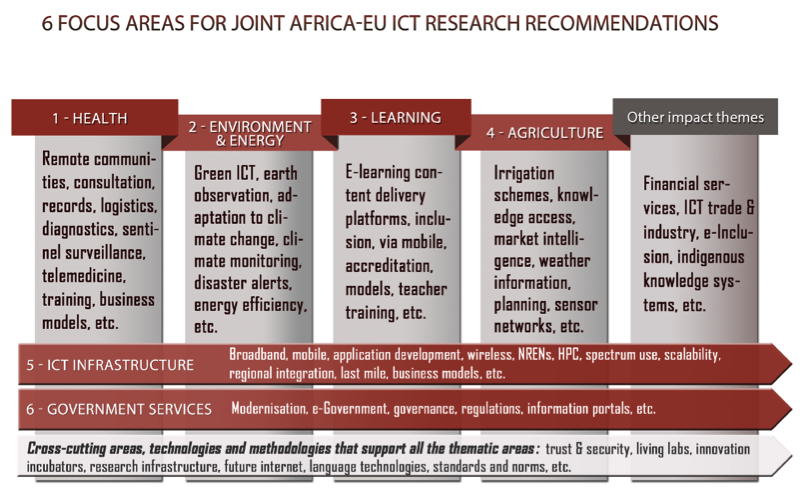 Production of substantial Focus Area description that identify the challenges and opportunities for ICT research and innovation based on a review of literature, interactive discussions and workshops, presentations by experts, futures thinking methodologies, analysis and experience of Consortium Partners and an e-consultation with the ICT research community;
Sharing and debating of perspectives and outputs at the various events of the project, i.e. the Thematic Working Group meetings, Awareness Workshops and Africa-EU Fora on ICT Research, as well as at Euro/Africa Partnership 8 meetings and relevant other conferences and events during 2012/13;
Recommendations to the EC regarding focused ICT collaboration opportunities in the identified priority domains.